Bus trip to Asheville, NC – Brewery Trip
UPZS is planning a member bus trip to Asheville, NC. Part of the cost of this trip is being mitigated by the raffle of a 7 gallon SS Brewtech Chronical fermenter. The details of the trip will be shared in an upcoming communication once the planning is finalized. The raffle date for the fermenter will be shared as soon as it's determined.
If you would like to purchase $5.00 raffle tickets, please reach out to any of the Officers
Below is an EXAMPLE picture of the product (the feet differ on the actual fermenter)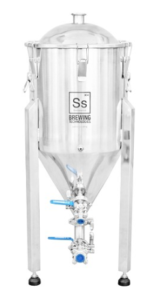 Pint Nights
Pint nights are a way for members to get together outside of a regular meeting at a local brewery. Each paid member receives one ticket for a beer of their choosing. The schedule for these will be released early in the year, but attending three of these pays for your membership!